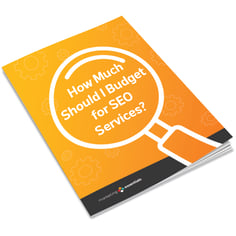 Search Engine Optimization is Essential to Business Growth
If you want your business to show up in online searches- and ahead of your competition - you have to have an SEO strategy in place that works and is cost-effective. Use this guide and checklist to map out a budget with clear expectations to ensure you gain optimal return.
Inside You'll Get:
A Checklist of Questions to Ask when Vetting SEO Services
Tips on How to Compare SEO Quotes and Pricing
Answers to Top Questions Asked
What is an SEO Strategy?
How long does it take to get SEO results?
What are average costs for SEO services?
Why do some companies charge only a few hundred dollars?
Who should be managing a site's SEO?
SEO is essential for business growth. Know what to ask before you hire!