Search Engine Optimization (SEO) is one of the fastest moving areas of technology today. New algorithms, rules and methods spring up on an almost daily basis—and this isn't likely to change any time soon. So how do you stay on top of your game and keep your website ahead of competitors?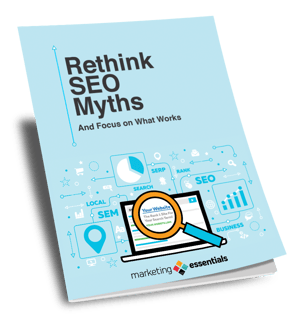 Learn what NOT to do in SEO in 2018.
In this guide, Rethink SEO Myths, And Focus on What Works, you'll get a list of 14 myths and what you should be doing in SEO, such as:
Keywords and related keyword terms
On-page and off-page SEO
Search engine bots and spiders
Social media and page rankings
Content, optimization and web page count
And more on what NOT to do, so you can focus on what to do instead!
Focus on what you should be doing.