Discover New Opportunities!
Take control of your marketing and sales strategies with a proactive approach that gets next-level results. With this checklist, uncover strengths and weaknesses. Map out a marketing plan that helps you surpass company goals.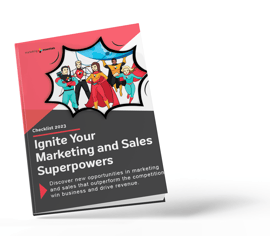 If you answer 'no' or 'unsure' to any of the following, you need this checklist!
Do marketing goals accurately align with sales goals and company goals?
Is your company attracting new leads via online and social media?
Are marketing campaigns engaging and nurturing new leads to sales?
Do you have data reports to show what works/doesn't work and the ROI?
Discover the most effective strategies top companies are using today >>>