Equip your sales team with virtual selling techniques - and achieve next-level results!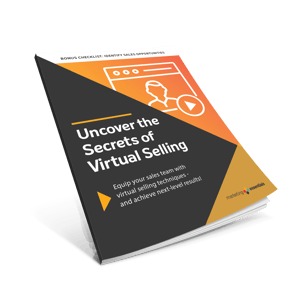 Sales teams today face a new environment. The game has changed. Person-to-person meetings are off the table; trade shows are canceled. Virtual and digital interactions have become the norm -- not the exception!
How do you transition a seasoned sales team into a virtual environment? With this sales guide, learn the secrets to a Virtual Selling Solution that drives revenue!
Inside this guide, you'll learn about:
Prospecting in a new era
How to create connections and build trust in a virtual setting
The 3 steps to a Virtual Selling Solution that wins sales!
The skills, tools and training needed to make the transition
Bonus Checklist: Identify Your Sales Opportunities
"The sales process has changed dramatically in recent years due to technology and then again in 2020 as new virtual experiences evolved. With the Marketing Essentials Social Selling class, our sales team was able to stay ahead of the curve. This class taught our team how to fully utilize LinkedIn to prospect and connect with potential clients, how to post content and engage, and how to craft video emails. More than anything, the class helped our sales reps gain another edge in an increasingly competitive market."
Nick Mihacevich - VP of Sales at M-Line